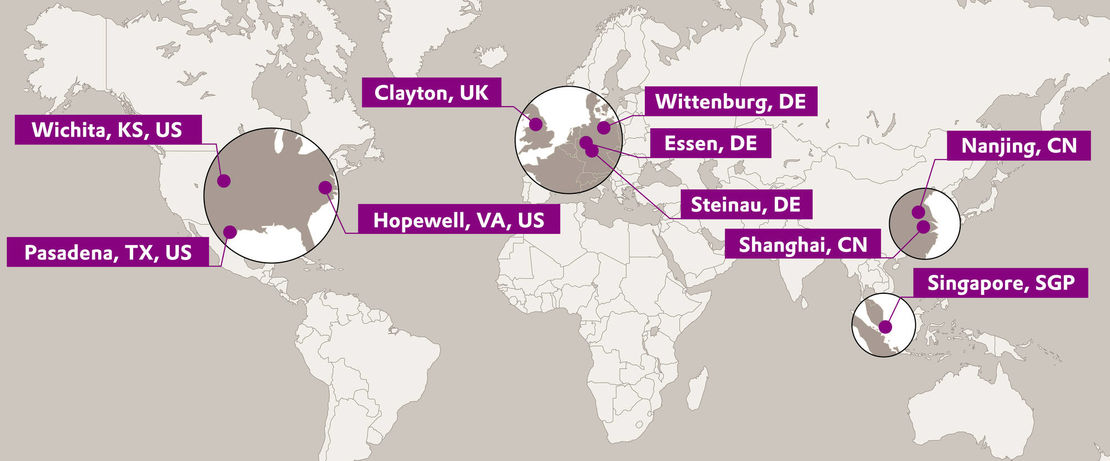 The reliable global production network of Evonik
Our customers' versatile operations in the world require a reliable partner who is there, ready to work with them and deliver customized solutions on time, every time. At Evonik, we pride ourselves on forming close relationships both through technical experts located in our customers' local markets, and through manufacturing and supply centers strategically positioned worldwide.
Ensuring the safe handling of chemicals & processes
Safety during production, storage and handling of our polyurethane additives is our highest priority. In our production plants, the staff are highly trained, up-to-date with the latest practices and regulations, and to ensure optimum safety all equipment from production, to delivery is frequently checked and maintained.
We understand that safe working conditions are paramount for our team and our customers team's and this helps to improve the working lives of our production plant colleagues. Our high-risk awareness ensures that our processes are stable and that we only provide our customers with good and stable quality products.
Guaranteed quality and stability for our customers by global standards
For us, consistent and stable product quality is not just a marketing phrase. We know that stable and long-term reliability in the quality of our products is a key aspect to why customers choose to work with us. We have long established uniform processes that help to ensure that raw materials and products are comparably evaluated and qualified.
Our stringent production processes and strict quality controls provide a high level of transparency to support us in identifying any technical issues and help to improve the overall quality of our products and processes. Our application and development staff are in frequent exchange with our production teams to understand each other better, and to ensure that we only release qualified and high performing materials.
Latest expansions in our production network
Evonik is consistently expanding its production network to meet the latest requirements of the global polyurethane market. In 2017, to further optimize our supply options for our portfolio in Asia and North America we completed two global expansion projects.
Our new silicone and amine plants include our many years of experience and state-of-the-art technology, which ensures that we continue to provide our customers with the best and most stable quality products. Furthermore, the high flexibility of the new plants will allow us to be more agile and bring new innovations to the market much faster and serve our customers better.